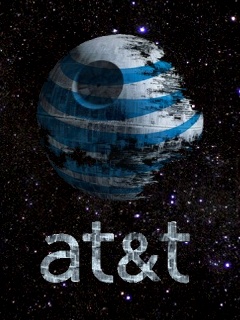 [reddit-me]Earlier this week, I noticed a bit of traffic hitting an old post of mine about AT&T's unlikely sponsorship of libertarian ideologues as they attempt to stop net neutrality. (Unlikely given their history of constantly pleading for government intervention in their favor.) I followed the source to the AT&T's forum but could find no link leading back to my rather critical post about AT&T.
So, today, I decided to check on what had happened. I didn't see any easy way to contact the people posting or the moderators, so I posted myself asking if anyone knew what had happened. Tifa_Shines "answered" my question by censoring my link as "spam."
Her message to me justifying her censorship said:
Links to material that contains political discussion and/or promotion of third party websites are violating the guidelines and will be removed.
And further that it is "inappropriate" and "unacceptable" to:
discuss[…] participant bans or other Moderator actions
I replied thanking her for "answering" my question — and that post was subsequently deleted. In my 5 minutes as a member of AT&T's Community Forum, I discovered at least 2 rules:
Thou shalt not discuss the political activities AT&T engages in rather than providing decent service.
Thou shalt not discuss when AT&T censors you so as better to maintain the fiction of a 'Community' Forum.
Knowing that links AT&T, for whatever their reason, did not approve of were labeled "not relevant" and "spam," I went back to the original page that was the source of traffic and found the offending, censored post — attempting to put AT&T's bandwidth caps in the context of it's efforts to fight net neutrality and their history of attacking every innovation from the Hush-A-Phone to the internet in their quest to create "the perfect system" without being distracted by that terrible thing called competition, and coincidentally, extracting the maximum profit from their customers.
In the scheme of things, the injustice of this censorship is rather small. AT&T is a private company and they can do whatever they want in a private forum that they run. Even the Westboro Baptist Church has rights.
But AT&T, by opposing net neutrality, is asking that we as a people trust them to not censor the internet.
They are asking for permission to change the structure of the internet by violating one of it's foundational principles — net neutrality. (A principle that AT&T coincidentally opposed when government scientists were attempting to create the internet in the 1950s.)

They are asking that we trust them to not make websites that disagree with them slower and making those they approve of faster.
They are asking that we trust them as an ISP to provide access to content that criticizes them.
They are asking that we trust them not to quash the next disruptive technology that will use the internet in ways we haven't yet thought of or that will be even better than the internet.
Their sordid history of pleading for special favors from the government to destroy any opponent or innovator (as detailed in many places, but most memorably and recently, in Tim Wu's The Master Switch) — and their attempts to strangle the internet before it even existed — gives us little reason to trust them.
Their bankrolling of former libertarian economists and thinkers such as Adam D. Thierer (who before they sold out were vicious critics of AT&T) to lie about net neutrality gives us little reason to trust them.
AT&T's attempts to game the political system with a "slush fund" sponsoring what former VP and Director of Communications, Dick Martin, called "so-called 'grassroots' organizations all over the place, astroturfing the countryside" give us little reason to trust them.
That various people AT&T has sponsored (including Grover Norquist) have now joined up with right wing religious fanatics to oppose net neutrality on the grounds that it will prevent the censorship of "obscenity and other objectionable content," is yet another reason not to trust AT&T.
To summarize, AT&T is making the argument that they should be trusted as a steward of the internet and that the government should not allowed to protect one of the foundational principles of the internet that has made it a libertarian utopia of competition and free markets in the name of…libertarianism. Yet it's history and current incarnation betray a culture of censorship and anti-competitive behavior that extends down to an Orwellian policing of it's 'Community' Forum — labeling links it disagrees with as "Spam" and forbidding any discussion of it's own censorship.
If it succeeds in overturning net neutrality, how much longer will it be before any website criticizing them is labeled as spam — just as a link to my blogpost criticizing them was? And how long before any attempt to discuss such labeling will be forbidden as against the user agreement you accept by getting your internet through AT&T?
Mad? Want to do something? Take a moment and email your Congressperson today to tell them how important net neutrality is to you.